Why would students have their own power supplies?
Often experiments carried out by students which require an electrical voltage, are supplied in such a way that teachers enable the feed to each work station from their desk so that the students can access from their tables. There are a number of advantages, though, to students having their own power supplies. They are as follows:
Well-defined output voltages can be supplied, i.e. there is no drop in the voltage when a load is connected.
Work can be done individually at each work station. This is particularly helpful when sets of measurements are being made.
The tables where the students are working do not need any wiring other than a standard mains outlet.
The power supply can be equipped in a particularly suitable way for students.
MKS 3.1 low-voltage power supply
This handy low-voltage supply can easily be used whenever a continuously adjustable DC voltage of between 0 and 12 V is needed, or for fixed AC voltages of 2 V, 4 V, 6 V or 12 V where an overall load of 3 A suffices. A 1.5 m mains lead is included with both supplies.
Technical data for MKS 3.1
Mains voltage: 230 V +6% -10%, 50/60 Hz
Power consumption: max. 110 W
Protection: Galvanic isolation from the mains by means of a safety transformer, both outputs are protected against short-circuits and overloads by means of multifuses.
DC voltage: stabilised, 0-12 V continually adjustable, max. 3 A
Residual ripple: < 100 mV
AC voltage: 2-4-6-12-V in steps, max. 3 A
Dimensions: 203 x 205 x 117 mm
Weight: 3.2 kg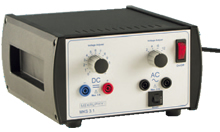 MKS 2.4 low-voltage power supply
MEKRUPHY's MKS 2.4 low-voltage supply sets new standards in the field of power supply equipment. The equipment supplies stabilised AC voltage with a perfect sine-wave form as well as similarly stabilised and optimally smoothed DC voltage, continuously adjustable between 0 and 12 V in each case. LEDs are provided to indicate which type of voltage is selected.
Technical data for MKS 2.4
Mains voltage: 230 V +6% -10%, 50/60 Hz
Power consumption: max. 75 W
Protection: Galvanic isolation from the mains by means of a safety transformer, both outputs are protected against short-circuits and overloads by means of automatic circuit breakers and electronic cut-outs.
DC voltage: stabilised, 0-12 V continuousls adjustable, max. 2 A
Residual ripple: < 2 mV
AC voltage: stabilised, 0-12 V continually adjustable, max. 2 A
Dimensions: 225 x 199 x 73 mm
Weight: 1.7 kg